From Fred:  Stage Manager Instructions for our concert on 10/30/11.
Facts:
-14th. Street will be closed to traffic until 1:15 because of the Marine Corps Marathon.
http://www.marinemarathon.com/MCM_Runner_Info/Course_details.htm
click on "maps" in the upper right hand part; click on the center logo; (map next Emai)
Runners use the out-bound bridge. In-bound is open to the SW Freeway only.
-The parish hall is still there but it will be in use (pre-concert lecture) from 2 to 3 PM.
– No bathrooms downstairs – go up the stairs in back to reach the upstairs bathrooms.
-The orchestra will rehearse alone, in the church, from 1:00 – 2:00 PM on Sunday.
-We may rehearse with them from 2:00 PM until 2:40; starting with Mark's arrival.
Chorus Plan A
– Before 2:00: Gather in the rear of the sanctuary so we can talk.
– 2:00: Move to the front pews on the left side where the chapel was last year (see photos).
– When Mark arrives, we will line up in the space to your left where the chapel was, and face toward the center of the hall. Altos on the back row will lead that row onto the risers. The remaining back rows will follow onto the risers, one at a time, nothing fancy.
– Mark will release us before the audience is allowed to enter.
Parish hall is not available yet.
– We will move into the parish hall just before the concert begins and remain there until it is time to move onto the risers. That should be about 30 minutes into the concert. There should be some chairs left over from the lecture.
– Remember to get a parking pass to reduce your parking fee to $8 instead of $16. We'll hand some out. It is also important to have cash and the parking ticket in your hand when you leave the underground parking. No credit cards.
Getting there: Good Luck!
– I have gotten around the marathon blockade in the past by crossing the 14th. bridge; staying in the right hand lane; going onto the SW Freeway to 12th. street and crossing under the mall via the 12th. street tunnel. Turn left at G st, and go less than 2 blocks.
Attachments: Photos of Epiphany (.jpg files, click to enlarge)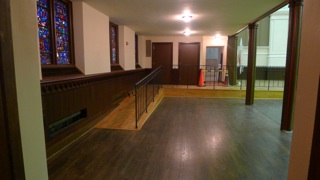 Photo 1,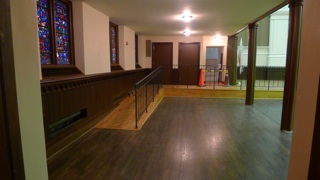 Photo 2,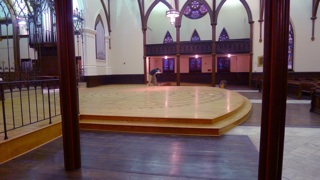 Photo 3
Tags: performances, stage instructions